Green living is probably the best thing to offer Phoenix. Just like its name entails, Phoenix is a city invigorated by the warmth of the sun: it sees more sunshine than any other metro area in the U.S.
Taking advantage of that huge source of natural energy, Phoenix adopted the 2012 International Energy Construction Code (IECC 2012). As a result, the city has started erecting LEED accredited, net-positive buildings that produce more energy than they consume. The city also has installed 32MW of solar energy on its properties that supply city buildings with clean, renewable energy. As expected, Phoenix's sun-bathed community has become a capital for innovative craftsmen who want to contribute their work to the world. This list presents just some of the talented green architects that have designed homes worthy of recognition from industry publications like Luxe, Tucson Lifestyle, Dwell, and Desert Architecture. These firms have won industry awards like the AIA Arizona Honor Award—honors that provide testament to the capabilities of these architects when providing both aesthetically pleasing, energy-efficient homes.
---
Circle West Architects
4148 North Arcadia Drive, Phoenix, AZ 85018
Established in 1992, Circle West Architects is a firm that has been recognized for innovative design excellence. Over the years, its design approach—involving the practice of focusing on innovative, modern, and sustainable designs—has let the firm complete a variety of public and private projects. Those projects range from single-family residences and hospitality projects to large-scale mixed-use city centers for clients throughout the Western U.S.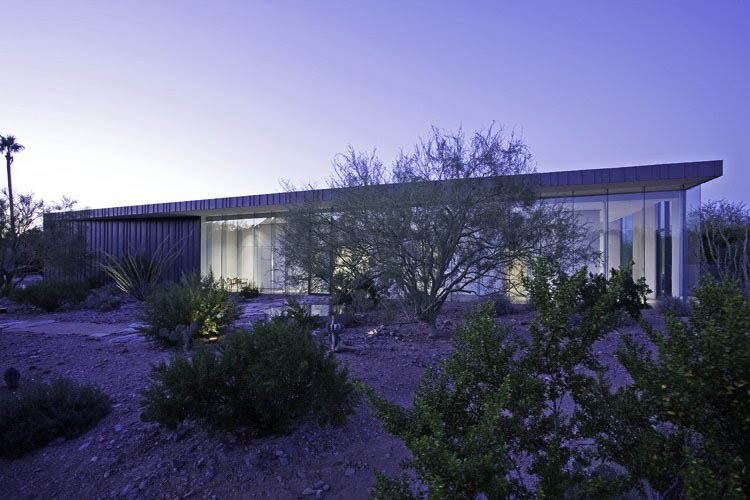 Among these many projects, its most notable might be the 5,000-square-foot Desert House in Paradise Valley. A single-family residence that required a renovation, its design incorporates large glass walls that highlight the natural daylight its vibrant design brings in. These projects are guided by company founder and president Peter M. Koliopoulos. Trained at the Illinois Institute of technology, Koliopoulos has lived and traveled in various geographies throughout the U.S. as well as abroad.
---
LEA Architects
1730 East Northern Ave., Suite #110, Phoenix, AZ 85020
A nationally recognized firm, LEA Architects was established in 1975. Over the decades, the firm has designed over 150 fire stations, public safety facilities, educational buildings, airports, libraries, admin/offices, police projects, and courts. The firm has been recognized for crafting a wide variety of project types that span multiple market sectors. Though these are different kinds of projects, LEA Architects has designs that focus on energy and water conservation and promote healthy environments for clients and building occupants.
Thanks to this design approach, the firm has gathered numerous LEED accredited professionals on staff and has become associated with several environmental organizations including the U.S. Green Building Council (USGBC), Valley Forward, and the Coconino County Sustainable Building Program. Aside from these associations, the firm's work has brought it features in publications like Architecture West Magazine and Atomic Ranch. The firm has been recognized for its efforts by the Arizona Forward Governor's Award for Energy and Innovation.
---
Perlman Architects of Arizona
4808 North 24th St., Phoenix, AZ 85016
Perlman Architects of Arizona aims to provide quality designs that balance function, cost, and aesthetics. Over the years, it provided several projects for various markets including the multi-family, single-family, and public works markets. When it comes to single-family homes, its most notable work might be a Spanish revival home completed in 2012.
A two-story home, it has a simple façade that harmonizes with its desert surroundings. Aside from creating high quality and aesthetically pleasing designs for clients in Phoenix the firm is also known for several other services including program and planning and construction administration. The team even does contract bidding and negotiation assistance. This firm is also a USGBC LEED Silver accredited firm.
---
Soloway Designs Inc.
7230 N La Cañada Dr, Tucson, AZ 85704
Soloway Designs Inc. was established in 1996. Since then, it has been recognized as an award-winning architecture and interior design firm that has been featured in publications like Tucson Lifestyle, Ocean Home, American Style Villa, and Luxe among many others. The firm has also won honors like the 2013 PCBC Award of merit, the NAHB Home of the week, the ASID Excellence Award, and the 2012 Best in America Living Award. With such recognition, the firm has completed over 900 projects that range from small additions and remodels to $5 million luxury homes. So far, such projects have been seen across the state of Arizona, across the border into California, cross country to Illinois, and around the world in Trinidad, Croatia, Kuwait, and Egypt.
Among these projects, the firm's most notable project includes the Peters residence. A desert modern home, this two-story structure is made of decorative concrete block and exposed structural wood beams. Inside, it boasts a great room with front and back windows that provide amazing views. The great room's wood-paneled ceiling also follows the curvature of its roofline and brings attention to the exposed structural wood beams
---
The Ranch Mine
4340 E Indian School Rd. Suite #21552, Phoenix, AZ 85018
The Ranch Mine is a three-time award-winning architecture firm established in 2010. Inspired by a pioneer spirit, the firm creates projects that promote deep roots in the community while provoking curiosity and exploration. Over the years, it has done beautiful modern and eclectic styled homes that have helped the firm gain features within publications like Luxe, Dwell, HGTV, Phoenix Magazine, and Phoenix New Times. The firm has also won awards including HGTV's 2019 Designer of the Year Before + After Editor's Choice award and a spot on Luxe's 2020 Gold list.
Among the firm's many projects, its most notable might be Red Rocks. Previously a Spanish colonial-style home, the residence was fashioned into a two-story modern stucco home that highlights the connection between the house's living spaces and the surrounding landscape.
Currently, the firm is handled by husband and wife duo, Cavin and Claire Costello. While Cavin has designed over 125 national and local award-winning projects in his ten years of experience, Claire works as the firm's chief executive, bringing her experience working on ranches, mid-century modern homes, and desert architecture to every project.